March Issue 19 Released
I am pleased to announce that issue 19 of DNN Creative Magazine has been released.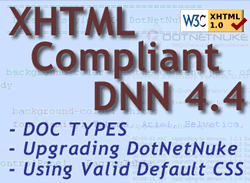 In this issue we demonstrate how to configure the latest DotNetNuke v4.4 to produce XHTML compliant code.
We explore the new skinning features in DNN v4.4 looking at DOC TYPES and using DROPDOWNACTIONS.

We have also updated the Simple Red Leaf skin as well as the 'How to reduce and validate the default DotNetNuke CSS' article for v4.4.

In February we upgraded DNN Creative Magazine, so we have documented the steps taken and pitfalls to avoid when undertaking a large upgrade project in DotNetNuke.
Finally, we discuss software piracy and how it can affect the DotNetNuke community.
This issue comes complete with 4 videos.


Tutorials:
Downloads: To save you time, all of the videos for each issue are available as a single zip download from each issue page.
Download the videos from here:
Issue 19 – XHTML Compliant DotNetNuke 4.4 and Upgrading
Issue 18 – DotNetNuke and Blogging
Issue 17 - DotNetNuke Portals
Issue 16 – Skinning Troubleshooting, Vendors, Banners, Affiliates in DotNetNuke
Issue 15 – DotNetNuke 4.3 and 3.3 Installation, Email, Documents and User Settings
Issue 14 – DotNetNuke 4.3 and 3.3 New Admin, Security, and File Functions
Issue 13 - DotNetNuke 4.3 and 3.3 New Administrator Functions
Issue 12 - CSS Horizontal Menus and Google Adsense
Issue 11 - An in-depth look at Headings and Styling
Issue 10 - The DotNetNuke Skinning Toolkit
Issue 9 - Advanced Content Styling Techniques and CSS
Issue 8 - CSS for Styling and Layout in DotNetNuke
Issue 7 – Developing and enhancing skins
Issues 5 & 6 - Working with skins
Issue 4 – Installation Essentials
Issue 3 - The Really Simple Issue (RSS)
Issue 2 - A Picture Is Worth A Thousand Words
Issue 1 - The World At Your Fingertips

If you have any suggestions for the magazine, or requests, please do not hesitate to contact me, this magazine is for you.

Many thanks,


Lee Sykes
DNN Creative Magazine

View Issue 19


PS. View the RSS feeds page, keep up to date with the latest information, or display our articles on your website using the DNN Creative Magazine RSS Feeds .
Quick Links:
All Free Content
All Videos
All Interviews
All Articles

Stats: There are now 197 videos on DNN Creative Magazine.
---
DotNetNuke® is a registered trademark of Perpetual Motion Interactive Systems Inc.